Learn How To Use Reverse Speech Professional To It's Fullest Potential… Discover How To Find And Interpret Reversals With Ease
Find out the truth about Reverse Speech, master it's practice and learn how to correctly interpret the messages you uncover… plus learn the art of metaphor restructuring to reprogram your unconscious mind for success!
Finding and identifying reversals using RSP is immensely rewarding, but imagine if you could truly understand, interpret and restructure the hidden messages you find to improve your health, relationships and career – well now you can!
In response to growing demand for greater knowledge and understanding of this specialist and unusual field of study…
David Oates the founder of Reverse Speech created a comprehensive training program specially designed to provide users of RSP with an introduction to Reverse Speech and provide a greater understanding of the human psyche, the applications of Reverse Speech and reveal truth about the metaphors that dominate our thoughts!
"Congratulations on choosing to purchase the Reverse Speech Professional Software, I'm truly thankful and am certain you'll get as much pleasure using it as I have creating it… however before you complete your order I'd like you to take 2 minutes to consider taking advantage of the limited time offer below"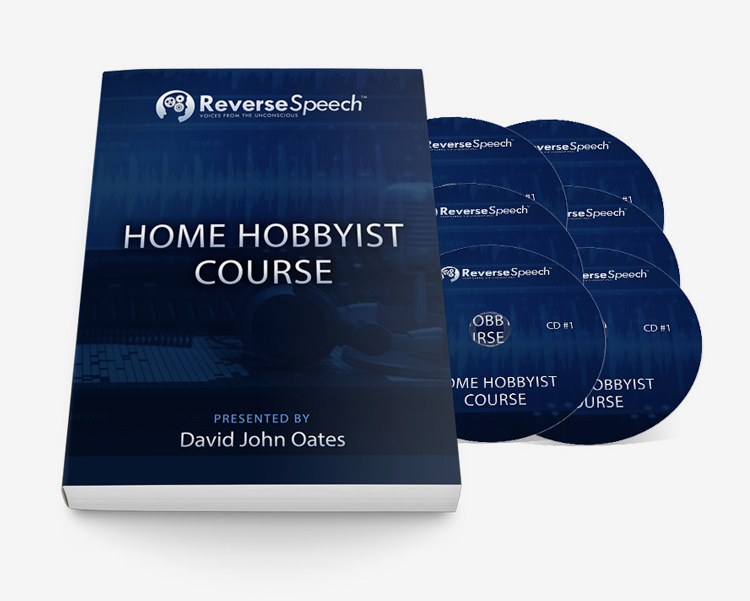 One-Time Offer – Save 50% Off The…
Reverse SpeechTM Home Hobbyist Course
Suitable for everyone from the personal user, hobbyist and as an introduction for students of higher learning this comprehensive training program includes:
The history of Reverse SpeechTM

Reverse SpeechTM Theory

How to recognise a genuine speech reversal

Finding your own reversals

Using recording equipment for Reverse SpeechTM in Children
Reverse SpeechTM in music

The levels of Reverse SpeechTM

A basic trance session

Reverse SpeechTM check points

Metaphors and Metaphor Restructuring
Plus MUCH more!
That's over SIX hours of content delivered in easy to download, easy to listen to MP3 Audio file format, complemented by written training manuals.
This incredible course is the perfect addition to your Reverse Speech Professional Software purchase.
The course is usually $195.00, but as a thank you for purchasing RSP I'd like to offer you the opportunity to add the Home Hobbyist Course to your order today for just $97.50.
Add the Home Hobbyist Course to your order today for just $97.50
Note: This offer is only available during checkout of your purchase of RSP, should you change your mind you can purchase it at www.reversespeechshop.com at the RRP of $195.00.